It has been a number of months since the last update, but today's brings several new features and improvements.
Before we get into them, an item of importance:
Help Build a Recommendation System
Being a distributed extension, Lazy Scholar is in a unique position to gather massive amounts of useful data on scholarly searching habits. In fact, since the launch, Lazy Scholar has been used in over 800,000 searches.
In order to make search sessions more productive for everyone, we would like to build an effective research paper recommendation system. And for that we need your help! We've partnered with researchers who would like to study usage patterns on Google Scholar and PubMed to see if this can inform such a recommendation system, which would benefit Lazy Scholar users in the future. To do so, we anonymously collect the following information with your permission only while you are on Google Scholar and PubMed: 

-Your search queries/pages loaded on Google Scholar and PubMed 
-Any link you click from Google Scholar or PubMed 
-Time spent browsing pages on Google Scholar or PubMed 
In the next week, a page will popup asking if you are ok with such data collection. If not, no problem! But it would be a big help and could lead to useful paper recommendations. You can always opt-out once you approve.
New Features
1) Hypothes.is link in the infobar
Hypothes.is is a an open annotation layer that can overlay any website. In nice timing with this release, today they announced a large coalition of scientific publishers, libraries, and other organizations that will work together to push for more integrated and useful annotations.
Because of this potential and utility (it has the ability to annotate PDFs along with pages), it gets its own button in the infobar. Clicking it simply adds their "https://via.hypothes.is" as a prefix to the url and loads the annotation layer. This way you can quickly share your annotations with others through this link. Clicking the button again directs back to the original url.

2) Block non-scholarly websites
I struggle with distractions when I'm online, and since Lazy Scholar is good at recognizing scholarly websites, it can easily block those that aren't. If you right click on the icon, you can choose to do just that. Any website that is not recognized as scholarly is redirected to a page telling you to get back to work. Click it again to cancel. This feature will be improved in the future.
Improvements
The main improvements in this version include:
1) Clinicaltrials.gov notification.
Lazy Scholar now automatically checks if a study has a Clinicaltrials.gov listing and displays a link if one is found.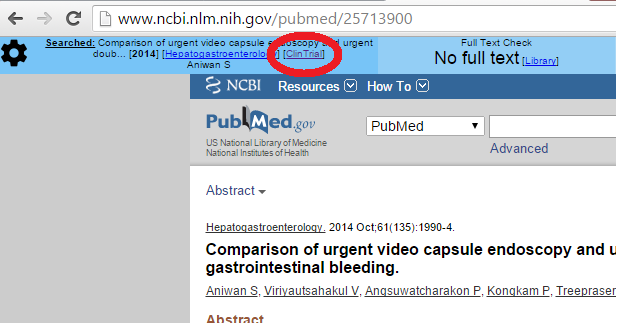 2) No more ugly popup.
When you clicked the icon before, it would load a simplified result with all text in a small popup window. This is now gone- if you click it now, the familiar infobar will load with the search results. This should only be needed if Lazy Scholar doesn't recognize a scholarly publisher and automatically load it for you.
3) Loads on PDFs.
Lazy Scholar will now look for metrics and display the infobar when you open a PDF in the browser.
What's Next?
The next goal is a complete rewrite of the Lazy Scholar backend, updated interface, and release as open source. Stay tuned!